Learning how to apply for a college loan isn't hard. However, when most people read the words "federal government" and "application" in the same sentence, they start imagining a process more painful than petting a porcupine. However, with our advice and information, you'll be able to apply for a college loan using the Free Application For Federal Student Aid, also known as the FAFSA, faster than you could pull half of the quills out of your hand. So, take a deep breath and have no fear. We won't leave a single acronym unturned as we demystify and simplify how to apply for a college loan.
What is the FAFSA and How Does it Work?
The Free Application For Federal Student Aid, the FAFSA, is used by most colleges and universities to decide if a student is eligible for grants, college loans and work-study programs. In addition, some state and private organizations use it when reviewing aid applications ("FAQs: Before Beginning a FAFSA"). Your application is used to calculate your Expected Family Contribution, also know as EFC, which is the amount of college expenses a student and his or her family is expected to pay. Your EFC is sent to your school, and your school uses it to decide which aid programs you are eligible for and how much money you receive. Your school will send you an Award Package detailing exactly what financial aid you are awarded. So, you want to do a good job filling out the application because a lot depends on it.
Who is Eligible for a College Loan?
Before you even look at the FAFSA, you should check to see if you are eligible to apply for a college loan from the federal government. To be eligible you must meet the following requirements ("FAQs: Eligibility"):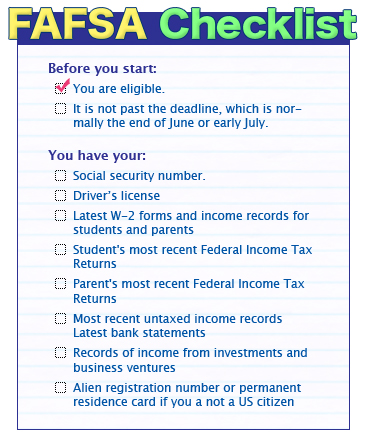 Infographic Credit: Meghan Carter
You are a US citizen or eligible noncitizen.
You have a valid Social Security number.
You are registered with Selective Services, except in special circumstances.
You have graduated from high school, earned a GED or passed an ATB test.
You are enrolled or have been accepted to a school that participates in federal student aid programs.
You don't owe a refund for a federal grant, and you haven't defaulted on federal student loans.
When is the FAFSA Deadline?
Before you waste your time trying to apply for a college loan, you should first check the deadline. The application deadline for the FAFSA is usually around the end of June or very early July ("Application Deadlines"). Make sure you find the exact date, and don't miss it.
What You Need Before Filling Out the FAFSA
Before you can start filling out the FAFSA, you should do some preparation. Doing a few simple things will save you a lot of time and prevent frustration. First, collect all necessary documents. You will have to reference a variety of records to complete the FAFSA. Here's the list of what you'll need to apply for a college loan from the government ("Documents Needed"):
Social Security number
Driver's license
Latest W-2 forms and income records for students and parents
Student's most recent Federal Income Tax Returns
Parent's most recent Federal Income Tax Returns
Most recent untaxed income records
Latest bank statements
Records of income from investments and business ventures
Alien registration number or permanent residence card if you a not a US citizen
Once you have gathered all the necessary documents, you should get a Personal Identification Number, also known as a PIN. That will allow you to electronically sign your application, which allows your application to be processed in much less time ("Signatures Required"). Also, you can use that PIN to sign your financial aid documents throughout your college career. It is much easier than any other method. You can get your pin online by visiting www.pin.ed.gov.

Now that you have gathered all your documents, registered for a PIN, checked your eligibility and made a note of the application deadline, it is time to get down to business. The first thing you should do is download and print out the FAFSA on the Web Worksheet. It will walk you through the steps for filling out the actual FAFSA. It will ask information about both students and their parents, including information pertaining to identification, citizenship, education, college enrollment status and financial situation. If you have gathered all the necessary documents ahead of time, the worksheet will be easy to complete. Once you have finished the worksheet, it's time for the real application.
Filling Out the FAFSA
The best way to fill out the FAFSA application is to do it online. The online application has help sections, frequently asked question reference pages and automatic calculators. Also, you can instantly sign and submit your application online with your PIN ("Filling Out a FAFSA Overview"). You can complete the application in stages if you don't have time to do it all once.
You can save the work you have done on your account and access it again at a later time. Completing the application will require you to transfer the answers you put on your worksheet into the online FAFSA. It is quick and easy because you have already done the hard work ahead of time.
What Happens Next?
Once you submit your FAFSA, the Department of Education will process it and send you your Student Aid Report, also know as a SAR. If you used a PIN to submit your online application, it will be processed in about one week, but if you had to use another method to sign and submit your FAFSA, it will take longer ("FAFSA Follow-Up Overview"). The Department of Education will also send your SAR to the colleges your designated on your application. Your SAR will contain your Expected Family Contribution, or EFC, which is an estimate of how much your family is expected to pay for college education ("FAFSA Follow-Up Overview"). Your college will use your EFC to determine how much federal student aid you will receive. The amount of financial aid you receive will determine how large your college loan will be.
Completing a FAFSA is the best way to apply for a college loan. That one application is all it takes to apply for every college loan program offered by the federal government. That makes the time and effort required to fill out the FAFSA a worthwhile investment in any student's education. To learn about how much federal student aid you will receive and what to do if it isn't enough, read the next section of our Student Loan Guide
Step 4: How Much Money to Expect from Your Student Loan
.
The Rest of Our Student Loan Guide: