Chances are that if you recently graduated from college or will be graduating soon, you are receiving letters and phone calls from companies wanting you to choose their college student loan consolidation program. They probably each claimed to offer the best deal and caused you to panic by saying that you need to act soon or you will end up losing money. But don't be fooled by their sales tricks. You should take your time and learn about college student loan consolidation before making a decision.
What is College Student Loan Consolidation?
College student loan consolidation is when a parent or student takes out one large loan from a lender to pay off all other student loans. Instead of owing many lenders each a little money, now you owe one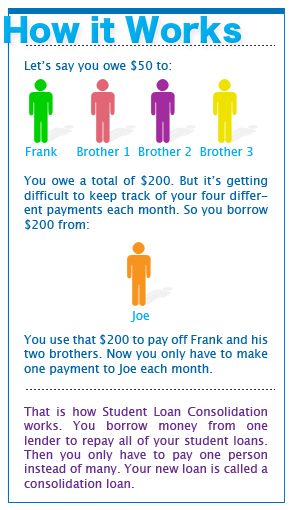 Infographic Credit: Meghan Carter
lender a lot of money.
Definitions never make much sense, so here's an example to really demonstrate how college student loan consolidation works. Okay, now imagine you owed a guy named Frank and his three brothers each $50. So, you are in debt $200 total, $50 to Frank and $50 to each of his three brothers. Because it's a hassle dealing with all four of them, you want another option. So, you talk to your friend named Joe. Joe agrees to give you $200 to pay off Frank and his three brothers. Next time you see Frank and his brothers, you give them each their $50 dollars. Now you are left owing only Joe the $200.
College student loan consolidation works just like that story. Frank and his three brothers represent your original lenders, which are usually the federal government for most students and parents. Joe represents the new lender, which may be the federal government or a private lender such as a bank, credit union or another financial institution. Consolidating your student loans doesn't reduce the amount you owe, but it does reduce the number of loans you have, condensing them into one larger loan.
How To Consolidate a College Student Loan
There are three areas that need to be addressed when discussing how to consolidate your college student loans: what loans can be consolidated, when can you consolidate and what lenders can give consolidation loans. Just stick with me. It'll make sense in the end.
What College Student Loans can be Consolidated?
Most private lenders offer college student loan consolidation, but you should ask your particular lender about the options available for your loans. As for federal loans, most all college student loans can be consolidated, but here is the list so you can make sure yours is one of them ("What Loans Can I Consolidate"):
o Direct Subsidized and Unsubsidized Loans
o Federal Subsidized and Unsubsidized Federal Stafford Loans
o Direct PLUS Loans and Federal PLUS Loans
o Direct Consolidation Loans and Federal Consolidation Loans
o Guaranteed Student Loans
o Federal Insured Student Loans
o Supplemental Loans for Students
o Auxiliary Loans to Assist Students
o Federal Perkins Loans
o National Direct Student Loans
o National Defense Student Loans
o Health Education Assistance Loans
o Health Professions Student Loans
o Loans for Disadvantaged Students
o Nursing Student Loans

When can you Consolidate?
For parents with PLUS Loans from the federal government, you can consolidate as soon as your loan is fully disbursed (U.S. Dept. Education). For students with loans from the federal government, you must wait to consolidate until you have either graduated, dropped below half-time enrollment or left school (U.S. Dept. Education). Each college student loan from a private lender will have its own rules about when it can be consolidated. In general, most private loans can be consolidated once they are fully disbursed.
Who Gives College Student Consolidation Loans?
You can get college student loan consolidation from both private sources and the federal government. As of June 15, 2006, you can consolidate your loans with any lender you like, even if one lender holds all your loans ("Student Loan Consolidation"). That applies for both parents and students. You are free to choose either government or private lenders. So, shop around and find the best deal you can. However, keep in mind that some consolidation lenders require a minimum amount to be consolidated. The minimum requirement is often set at $7,500, but some lenders go as low as $5,000 ("Student Loan Consolidation").
How to Apply for College Student Loan Consolidation
The first step in college student loan consolidation is to shop around and find the best deal. The federal government has set a maximum limit on student loan interest rates, but banks often compete with one another by offering lower rates ("FAQs about Consolidation"). Find the lowest interest rates available.
Then, fill out that lender's consolidation application. Don't worry. Most applications are easy. Many applications can be done online in less than a half hour, and lenders usually have good assistance if you call their help lines. Once you fill out the application, it will be processed and your consolidation lender will pay off your old loans. That process can take several months. In the meantime, make sure you continue paying your original lenders. If you don't, you will default on your loans, which will make it much more difficult for your loans to be consolidated ("FAQs about Consolidation").
College Student Loan Consolidation Costs
There are no fees for consolidating your college student loans, and you should avoid any lender that requires an up front fee because it may be a scam (FAQs about Consolidation"). The bulk of the cost will be your interest payments, but if you diligently search, you can find a low interest rate. The lower the better. Also, look for lenders who offer incentives such as a 0.25% interest rate reduction if you have your payments automatically withdrawn from your bank account or a 1.0% rate reduction if you make 36 on-time payments. Incentives can actually save you a lot of money in the long run. Another point to consider when looking at your consolidation loan cost is the term length of the loan -- in other words, how many months it will take you to pay back your loan. Be sure to compare the terms offered by each lender because the more months it takes you to repay your loans, the more interest you will have to pay. That means it costs you more money.
College student loan consolidation can help you save money if you can lock in a low interest rate and make paying off your loans easier by only having one lender. However, college student loan consolidation isn't right for everyone. To learn about federal college student loan consolidation, read
Step 2: The Facts of Federal Student Loan Consolidation
.
S
tudent Loan Consolidation Guide Sections: