You usually think of the federal government as taking money away through taxes, but believe it or not, the government does give money out, too. In fact they are the biggest provider of student loans, giving out around $74 billion each year in student aid ("About Us"). To get your share of the money, you need to become informed about federal student loans, the different types and how to apply. Just read on to take the first step in receiving your dues from Uncle Sam in the form of student loans.
Why Should I Choose Federal Student Loans?
Your two main options for student loans are federal loans or private loans, which are offered by numerous banks, savings and loan associations and other financial institutions. Although many students and their families look to private lenders for help paying for college, it is recommended that you only do so after utilizing all government financial aid that is available (FinAid.org). That is because federal student loans have lower interest rates and can be subsidized -- you don't have to pay interest ("Why Get a Federal Student Loan"). Also, you don't need to pass a credit check to qualify, and you don't have to pay the loans back until after you graduate.
Why are Student Loans Better than Parent Loans?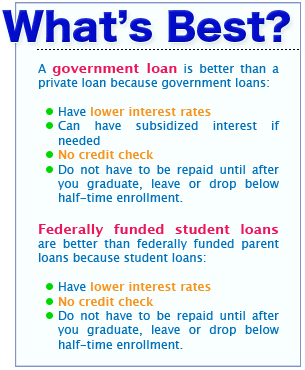 Infographic Credit: Meghan Carter
On first impression it may seem odd to have students, who usually have little money, few assets and no immediate hope of sustainable income, to take out a loan when their parents are usually better off. However, the government offers students much better incentives than their parents. For example, the interest rates on Stafford student loans is only 6.80%, while the Direct PLUS and FFEL PLUS loans available to parents have interest rates of 7.94% and 8.50% respectively ("PLUS Loans," "Stafford Loans"). In addition, parents have to pass credit checks and start paying off the federal loans almost immediately. Students don't have either of those problems. For those reasons, it is better to have students rather than their parents apply for federal student loans first. If the aid students receive isn't enough, then parents should apply for the PLUS Loans.
Types of Federal Student Loans:
Federal Perkins Loan Program:
Perkins Loans are granted to undergraduate and graduate students who have great financial need ("Campus-Based Aid). They have a 5.00% fixed interest rate, and you can borrow up to $4,000 each year. Your college handles the money, and you must begin repayment to your college starting nine months after you graduate, enroll below half-time or leave school ("Campus-Based Aid"). They are the best deal financially if you qualify because of their very low interest rate and generous repayment schedules.
Stafford Direct Student Loans:
The US Department of Education is the lender for Stafford Direct Student Loans. Direct loans come in two forms: subsidized and unsubsidized ("Stafford Loans"). Subsidized Direct Loans are need based and don't require you to pay any interest. Unsubsidized loans are available regardless of need, but you are responsible for paying interest on your loans. The interest rate for all Direct loans disbursed on or after July 1, 2006 is fixed at 6.80% ("Stafford Loans"). The amount of money that you can borrow depends on several factors, such as whether you have a subsidized or unsubsidized loan, your grade level and dependency status. Upon graduating, entering half-time enrollment or leaving school, you will have six months before you must start repaying your loan.
Stafford Federal Family Education Loan (FFEL):
FFEL Program loans are very similar to Direct Student Loans. The interest rates, eligibility rules and loan amounts are the same ("Stafford Loans"). There are also subsidized and unsubsidized FFEL loans, which work just like the Direct Loan versions. The main difference between FFEL and Direct loans is that FFEL lenders are private financial institutions such as banks, savings and loan associations or credit unions that participates in the government program ("Stafford Loans"). That means that once you qualify for a FFEL loan you have to select a lender. Often, schools make the process easy by having a list of preferred lenders for you to choose from.
How do I Apply for Student Loans?
The application process is very simple for all federal student loans. By filing out and submitting the Free Application For Federal Student Aid, the FAFSA, you apply for all federal student loans. Once the government and your college process your application, you will receive an Award Package that details all the grants, loans and other financial aid programs that you are eligible for. All you must do is accept, decline or reduce the amount of the various offers. The FAFSA itself isn't overly complicated. The most tedious part is filling out the student and parent financial information sections. However, considering how many programs you are applying for with that one application, it is easy.
To learn about the FAFSA, read the next section of our Student Loan Guide
Step 3: How to Apply for a College Loan From the Federal Government
, which is all about how to apply for a college loan.
The Rest of Our Student Loan Guide: